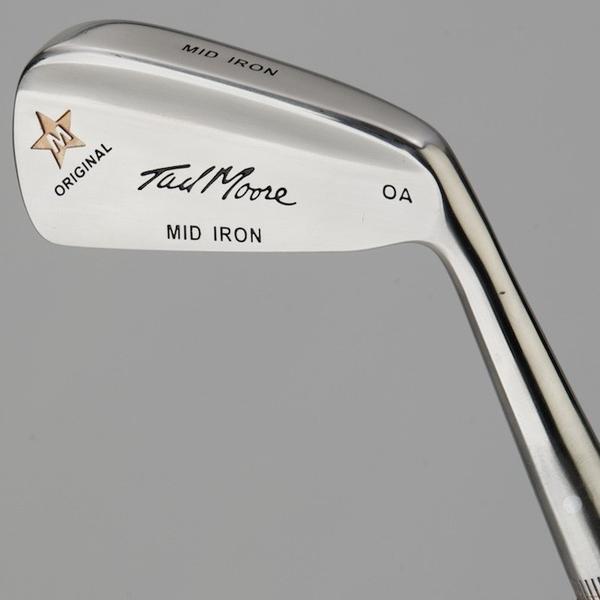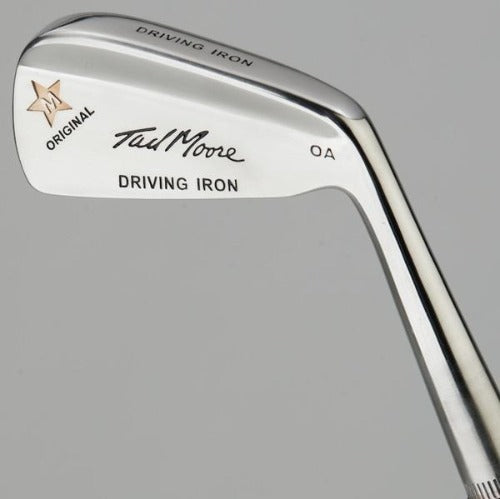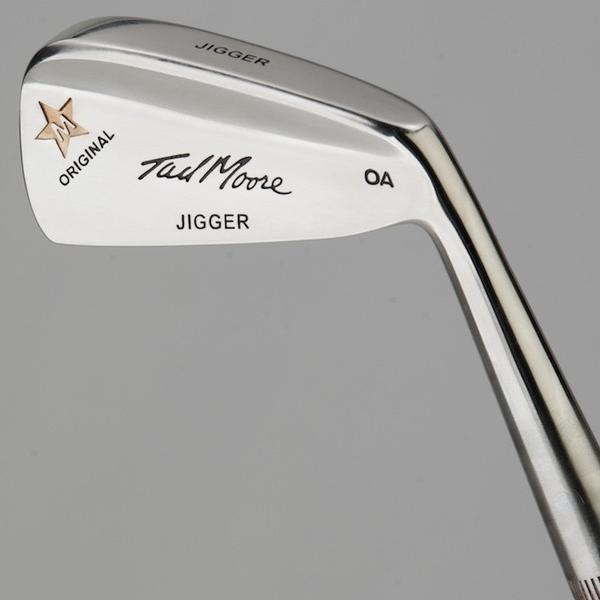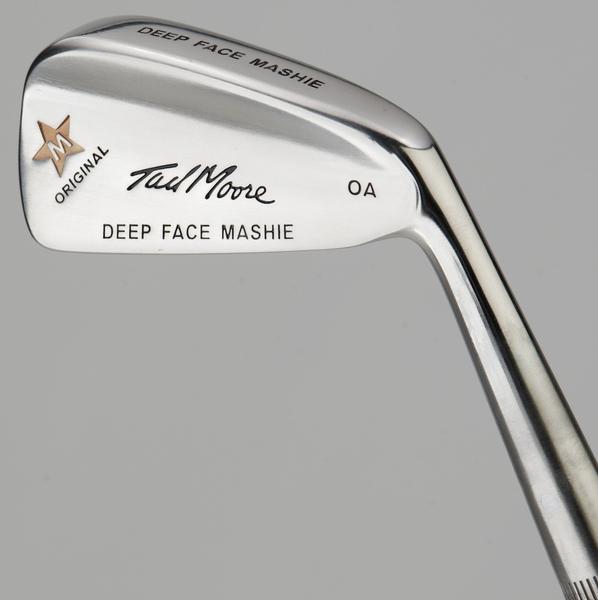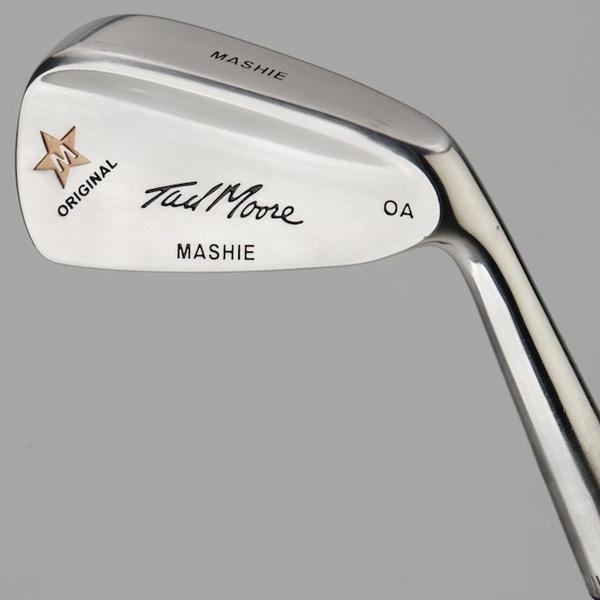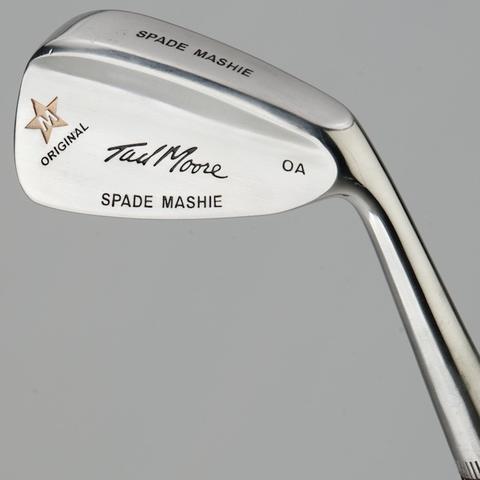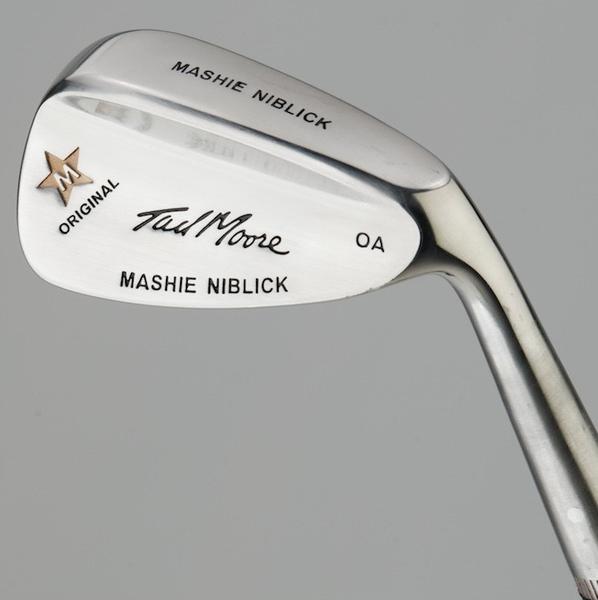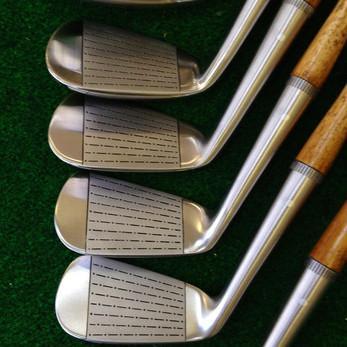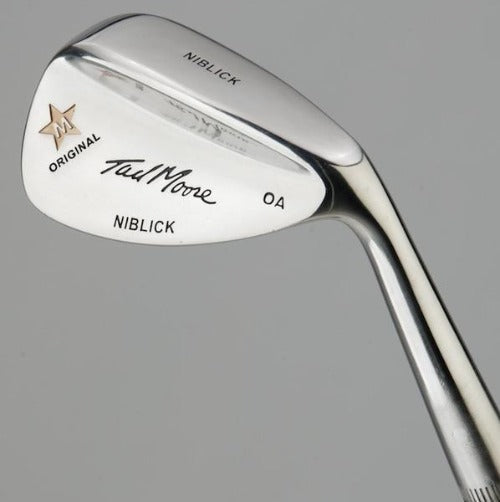 $1,700.00
$0.00
Tad Moore - Star OA Set of Hickory shafted golf clubs irons
The 8 piece set includes the Driving Iron to the Gibson OA Niblick. The 7 piece set includes the Mid Iron to the Gibson OA Niblick.


he Star OA Hickory Irons are made to a vintage design popular in the early thirties, and have more 'bounce' than the Tom Morris irons.
Tad's commitment to the highest standards led him to work with the world renowned Otey Crisman III to manufacture the heart of the club, its Hickory shaft.
Otey starts with the finest Hickory blanks and turns them to make a straight, strong, and playable shaft. The shafts then are taken and matched to the heads with modern adhesives and the old style pinned hosel to be sure the head and shaft are married together properly.
After finishing the shaft the leather grip is hand wrapped on to give you, the player, the classic feel of a leather grip. 
This individual hand manufacturing insures you the finest club available today. The unrivalled feel from hickory putters irons and woods will restate your appreciation for the art of the game. Relish the challenge and skill required.
Approved for hickory tournament play by the SoHG.

The Star AO series are the irons of choice for former masters winner Sandy Lyle. Lyle was seen bringing his hickories to Augusta during his practice rounds which caught the eye of none other than tiger woods. You can read more about this great story in "The Scotsman's' article here.

Lofts:
Driving Iron - 18 degrees
Mid Iron - 22 degrees
Jigger - 26 degrees
Deep face mashie - 32 degrees
Mashie - 37 degrees
Spade mashie - 42 degrees
Mashie Niblick - 48 degrees
Niblick - 54 degrees

Pure Craftsmanship
I just received my clubs. They are absolutely gorgeous. I would recommend this company to anyone interested in this beautiful product!
Nice Feel
I highly recommend the 8 piece OA set, I bought it 2 weeks ago and the first thing you will enjoy about the set is the feel.
Proud of it!
I enjoy everything about the OA set, there is some essence of class using them. I am totally proud!!
Excellent Customer Service
,I appreciate the customer service, I got all the right information about the 7 piece set I bought. I highly recommend it, thanks.
The Best
I Will be ordering the 8 piece set soon, the 7 piece set I bought is just amazing. I'm just having the best golfing season.